Applied AI Institute offers professional education and related Research & Development services in the field of AI. The course work has been developed by experts with decades of experience in envisioning, designing and implementing AI programs for major corporations. It offers practical insights into popular insights using videos, knowledge checks, and capstone projects. R&D services include unique first-of-a-kind applications of AI to Business Applications involving Vision AI, Conversational AI and Graph AI.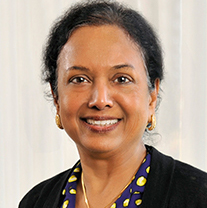 Neena Sathi is a principal at Applied AI Institute.  She has 30 + years of experience envisioning, designing, developing and implementing AI solutions associated with enhancing customer experience, back office automation and risk and compliance for many Fortune 100 organizations. She has worked in senior technical positions at Carnegie Group, Inc, an AI startup, Accenture, KPMG, and IBM.
Neena has three masters degrees including MBA from leading US universities.  She is Master certified integration architect from IBM and Open Group as well as certified Project management professional (PMP) from Project management institute. She is also certified in many Cloud and Cognitive technologies. She has widely presented and published many papers in AAAI, IEEE, WCF, ECF, IBM Information on Demand, IBM Insight, World of Watson, IBM Developer Works and various academic journals.